The Concept Behind One Percent Realty
One Percent Realty Ltd. was established in the spring of 1999. Market research suggested that the public recognized the value of a "middle man" for showing properties and negotiating a sale, but that they viewed prevailing commission rates as too high. The initial introduction of the One Percent real estate brokerage concept to the public was through a Remax franchise office which initially approved, but then revoked it's approval shortly thereafter. As a result One Percent Realty Ltd. was incorporated.
Real estate agents spend most of their time soliciting business. In fact, like it or not , most real estate agents feel that half of their job is done the night they list your home for sale. This is contrary to the seller's belief that when their property is listed that is when the REALTOR® job starts. By offering full service at a lower commission rate our salespeople spend less time looking for business and more time doing our job, which is selling your property.
While we are really strong believers in the power of the MLS® system to effectively market homes to the buying public, we also believe it may not be worth what the industry often charges for it. For the most part, it requires the same amount of effort to sell a $100,000 property as it does a $900,000 property. They both get listed on the MLS® system, shown to potential clients, advertised, contracts get negotiated on them both. There is very little difference, yet a common two tiered commission structure (eg. 7% on the 1st $100,000 and 3% on the balance) will cost the $700,000 home seller 3 times more commission than the $100,000 seller. It did not make any sense to us either.
For our Full Service on MLS® for homes under $900,000 we charge the same flat $9,950 of commission whether the home is $200,000 or $900,000. For homes prices over $900,000, we charge a very reasonable commission rate of 1% + $950 for the same full services.
The $950 disbursement portion of the commission pays for the typical costs associated with marketing and selling a property. Those costs include MLS® fees, real estate office conveyancing to handle the office paperwork once you have a sale on the property, and of course an advertising and marketing budget.
One Percent Realty offers local knowledgable salespeople in many areas. We hope that you will click onto this website and enter your home address so that a local representative will contact you . That way, our salesperson can spend his time showing and selling properties and not be "cold-calling" you for business when you are having your dinner.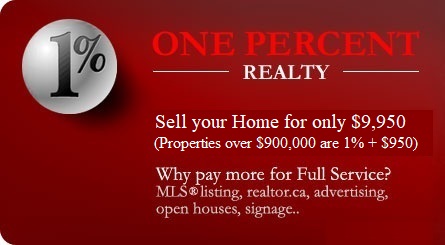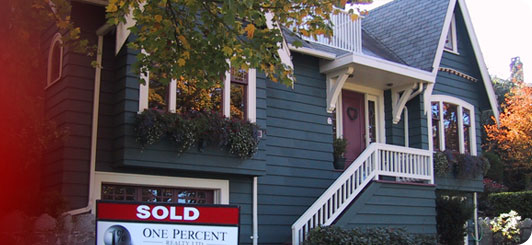 VestadHomes.Com - One Percent Realty - Your Port Alberni Realtor!
~ Courtesy of Brad Vestad ~